Asphalt Paving
& Supply Company
From Parking Lots to Highways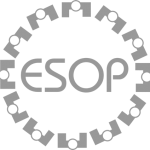 For many companies 'ownership' is a buzzword — 'Think like an owner' and 'take ownership in the work you do' are phrases heard at jobsites around the country. For us, ownership is a way of life. We have been a 100% employee-owned company for over 20 years. Rieth-Riley employees truly take 'ownership' of your project with a level of enthusiasm, pride and productivity that you will not find elsewhere. Rieth-Riley has a common interest in the success of your project — from the project manager, to the receptionist to the President — we will always deliver quality.
Rieth-Riley is seeking a team of highly qualified individuals who are committed to the positive outcome of every project.
Megan Haynes, Human Resources
"The Town of Chesterton's paving project was very successful this year. Everyone, including the paving crews and flagging personnel were very professional."
Street Commissioner John Schnadenberg
Town of Chesterton
"I want to take the time to thank you and your crew for installing a new driveway in front of our church on Michigan street. The work was excellent, and the driveway looks great."
Pastor Bob Vale
La Porte First United Methodist Church
"I just wanted to say what a great company you have! I've been watching my road get rebuilt in front of my eyes all day and you guys are the best."
"The efforts of your team exceeded our expectations and are another example of the quality of your firm."
Troy Woodruff
INDOT Chief of Staff
"I would like to express our appreciation for your professionalism, workmanship and product quality."
"It is, has and always will be an honor and pleasure working with Rieth-Riley Construction Company."
Michael J. Jackson
Supervisor
"What impressed me was the total professionalism of the crew and leaders that accomplished the work."
"I would like to take this opportunity to commend your company, Rieth-Riley Construction on the exceptional asphalt job that was just completed in our community. Our roads look awesome and I would not hesitate to recommend Rieth-Riley Construction to anyone!"
Kitty Cole
Community Manager of Sherwood Forest
Request a Quote
Contact our team of experts for a free quote!